In pressPublished on 15.11.2018
Special journal issue to mark AMI tenth anniversary
2018 marks the tenth anniversary of the creation of the Adolphe Merkle Institute at the University of Fribourg. To highlight this important milestone, AMI has joined forces with Small, a high-impact and influential weekly peer-reviewed scientific journal covering nanotechnology, to produce a special issue showcasing the research currently being pursued by the Institute's staff and alumni.
AMI's interdisciplinary research activities revolve around the development and investigation of soft nanomaterials such as nanoparticles, colloids, polymers, biomaterials, composites, nanostructures, and nanopores. This special issue of Small covers a range of topics that are illustrative of this interdisciplinary approach. With 20 high-quality contributions covering fields as diverse as self-assembling materials, innovative detection systems, data management, and nanofibers, it highlights the scientific activities of past and current staff and documents the impact of the Institute's growing network of alumni.
AMI owes its existence to Dr. Adolphe Merkle, a successful local entrepreneur, who in 2007 established the Adolphe Merkle Foundation with an endowment of CHF 100 million. His support remains one of the most important private donations to academic activities in Switzerland.
Link: Special issue of Small
Cover by Bodo Wilts (Soft Matter Physics, Adolphe Merkle Institute): microscope close‐up image of the rainbow weevil's shell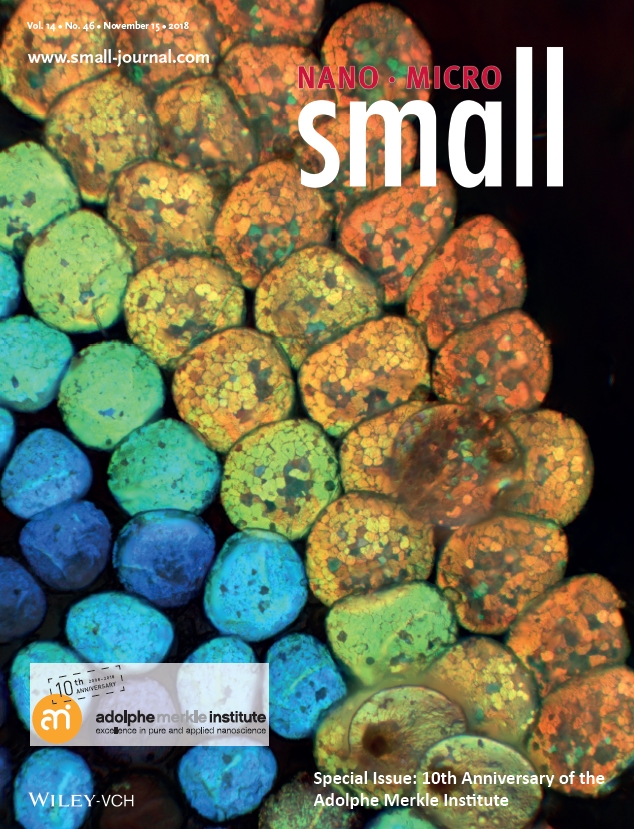 ---